This past Saturday my husband and his friend, Wayne, were going trout fishing in a neighboring county. When they fish they always team up to take a nice hot lunch. Sometimes Greg will take the meal, sometimes Wayne will, or like this weekend, they will both contribute to lunch.
On Friday morning I asked Greg who was responsible for dessert. After checking with Wayne, it was decided that Greg would be the dessert guy for this trip. He and I decided that I would make what is easily his favorite pound cake. Do not kid yourself, I am a fan, as well. The old-fashioned Cream Cheese Pound Cake is delicious, easy to make, and can be dressed up or eaten as is, which makes it a perfect dessert for any occasion.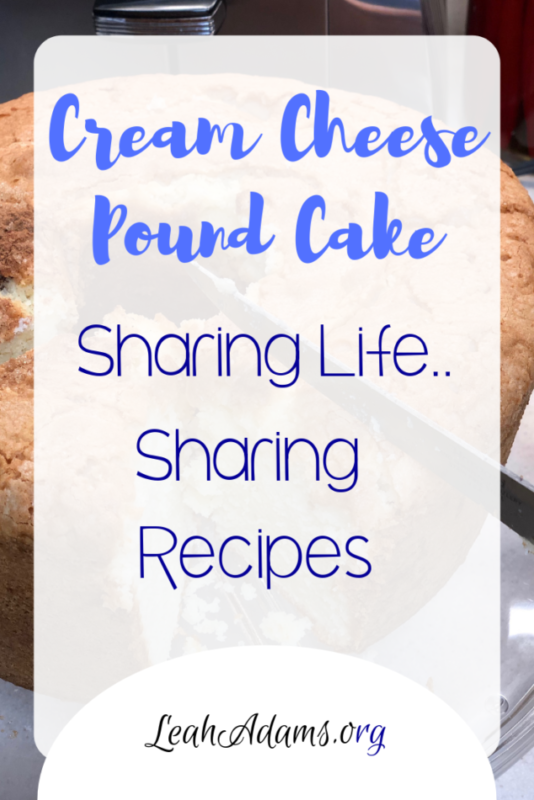 The recipe I have for Cream Cheese Pound Cake has only 6 ingredients in it, most of which I always keep in my fridge because we like this cake so much. So, Friday afternoon found me whipping up the cake. Once it was made, cooled a bit, and ready to taste, Greg and I each cut a piece to enjoy.
Y'all! Sweet mercy, it is like a taste of manna from heaven! The cake can be enjoyed warm or at room temp; plain or with fruit or whipped cream. It is a dense, super-buttery cake that will please most any dessert seeking palate.
I promptly snapped a picture of the cake and posted it on Facebook along with these words: When there is a fresh, warm Cream Cheese Pound Cake in the house, a knife is your best friend. It is one of our favorite pound cake recipes. Have mercy, it is like manna from heaven.
It did not take very long for the likes, loves, and wows to accumulate and people began asking for the recipe. I created a "NOTE" on my Facebook page so that folks could download the print the recipe. By Saturday evening I had been tagged in at least 6 posts from people who printed the recipe and make the cake on Saturday.
I did not want to leave you, my faithful readers, out of the fun. You may already have this cake recipe, but in case you do not, I am offering it twice here at my blog. In addition to putting it in the body of the blog, I am also making it a downloadable, printable document. I hope you enjoy it!
Cream Cheese Pound Cake
Y'all, this recipe has probably appeared in every church cookbook that has ever been produced, so it is super easy to find. Cream Cheese Pound Cake is a favorite at our house because you can eat it plain, dress it with fruit, put whipped cream all over. I hope you enjoy it.
* * * *
3 sticks REAL, unwhipped salted BUTTER (NOT margarine) (1 & 1/2 cups), softened on counter for 30 minutes
1 – 8 oz block cream cheese, softened on counter for 30 minutes
3 cups sugar
6 eggs
3 cups all-purpose flour
1 tsp vanilla extract
*************************
Preheat oven to 325 degrees F. Grease and flour a tube or bundt pan and set aside.
Cream butter, cream cheese, and sugar with an electric mixer, beating 5-7 minutes until creamy and fluffy.
Turn mixer to lowest speed and add in all six eggs. Mix at low speed only until incorporated.
Add all-purpose flour and mix only until lumps disappear. Add vanilla and stir in well.
Place batter (or at least most of batter…leave yourself a taste because it is crazy good) in the prepped pan. Bake for 80-90 minutes until cake is golden brown. Remove from oven and allow to cool in pan for 20-30 minutes. Turn out on a cake plate, cut yourself a piece and ENJOY!!
SDG/FCA!!
NOTE: This post contains affiliate links. If you are reading this post via email, please click HERE to go to my website and see the links and buttons provided.
Today I am providing my Amazon affiliate link for you to purchase a tube cake pan for baking this cake. Some people like to use a Bundt pan, which is fluted. I'm not a big Bundt pan fan. (Try saying that fast 5 times!)  It is a bit of chore these days to find a tube cake pan. When one searches for such a thing, most search engines return 2-piece Angel food cake pans as the choice. DO NOT use that type of pan for this cake. The batter will run through and you will have hot mess in your oven. Use a one piece tube cake pan.