What if you had been born in a third world country?
What if your parents made less than a $2 a day at their job?
What if you knew hunger almost as well as you knew your family?
What if the area in which you lived was infested with AIDs and people who would sell you for sex in a heartbeat?
What if it were your own parents who, just to make sure the family did not starve to death, sold you to someone for sex?
What if you were constantly worried about dying…from a preventable disease?
What if you never had the chance to get even a high school education?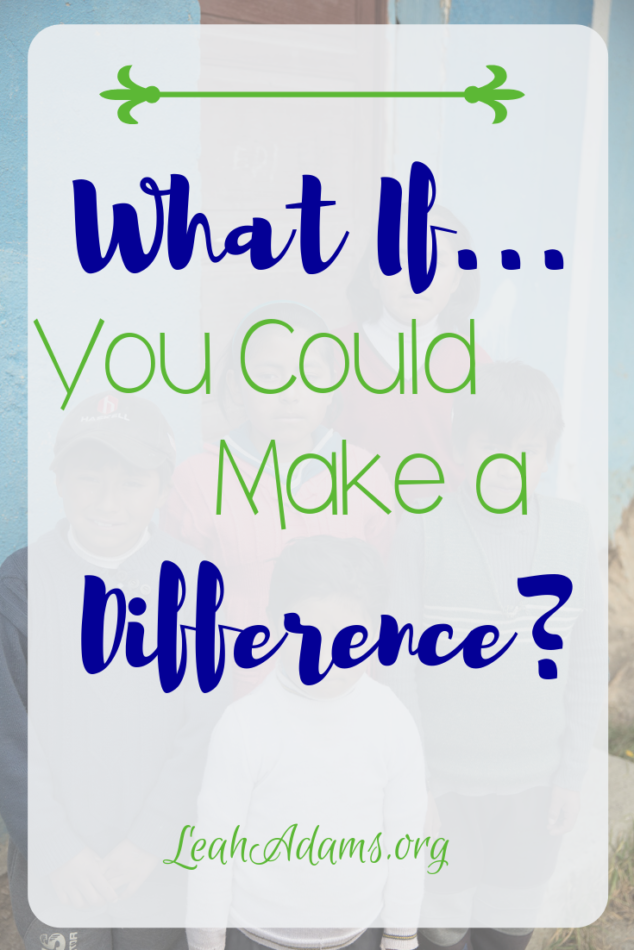 Millions of children live in the circumstances I described above. Consider the definition of poverty put forth by the World Bank:
"Poverty is hunger. Poverty is lack of shelter. Poverty is being sick and not being able to see a doctor. Poverty is not having access to school and not knowing how to read. Poverty is not having a job, is fear for the future, living one day at a time. Poverty is losing a child to illness brought about by unclean water. Poverty is powerlessness, lack of representation and freedom."
BUT, what if you had the means and the heart to make a difference in the life of a child in a third world country? What if you could help them go from poverty and powerlessness to freedom and possibilities?
And what if it only cost you $38 per month?
Think about the things that you might spend $38 a month on that are not essential to your life.
Five or six white chocolate mochas at the local coffee shop
Eating lunch out twice a week for 2 weeks
A bottle of wine
Downloads from iTunes
A new shirt or shorts
Tickets to a movie and all the trimmings, i.e. popcorn, coke, candy
What if you were willing to give up just one $38 monthly expenditure so a child in poverty might have hope?
What does $38 a month through Compassion International's Child Sponsorship Program give a child? I'm so glad you asked.
Access to medical care and nutritional support
An education in a local Child Development Center
School uniforms and education
Vocational training
And something that it is impossible to put a price tag on…..mentoring in a local evangelical church in their community. It is here the gospel of Jesus Christ is shared with these children and many hear the name 'JESUS" for the very first time.
Would you prayerfully consider joining me as a Compassion sponsor? I sponsor 4 girls through Compassion, and it is one way that I am fulfilling the Biblical command to help the poor. What a joy it is to me to be able to write to my girls and have them write letters back to me. My heart is blessed when they tell me in their letters that they pray for me and are learning Bible verses. I tell them I love them, I am proud of them, and they are beautiful. My $38 a month is making a difference in each of their lives.
Sponsorship is easy. Simply click this link which takes you to the Compassion page on my website. Once there you can see pictures of children who are waiting for sponsors. I hope you will say YES to sponsorship through Compassion.
Compassion Sunday
Every year Compassion International sponsors Compassion Sunday, a day of intentional focus on Compassion Child Sponsorship. This year May 5th is Compassion Sunday. Would you be interested in hosting a Compassion Sunday in your church or organization? It doesn't even have to be on May 5th. Any day of the week or year will work.
If you live in the north Georgia, eastern Tennesse, or western North Carolina areas, it would be my honor and pleasure to come to your church or organization and share the wonderful benefits of sponsoring a child through Compassion. Hosting a Compassion event is FREE. I would bring everything needed for the event. All I need from you is a table and about 10-15 minutes to share Compassion with your group. I would be available to answer questions your group might have AND to help them become sponsors of children.
What do you say? Email me at [email protected] for more information about hosting a Compassion event at your church.
SDG/FCA!!
NOTE: This post contains affiliate links.
(Visited 37 times, 1 visits today)