Y'all, it's only hours away from being New Year's Eve. Where in the world did the year go? So much has happened this year in my life, your life, and the world around us. Some of it has been good, while some has been blech! I wanted to take a few moments today to offer up a listing of the most popular posts here at LeahAdams.org. I'm actually offering two lists:
The most popular posts by number of views
The most popular posts by number of comments
I'm giving you the top ten in each category and I hope you will take the time to visit a few that you missed in 2016. Okay, here goes.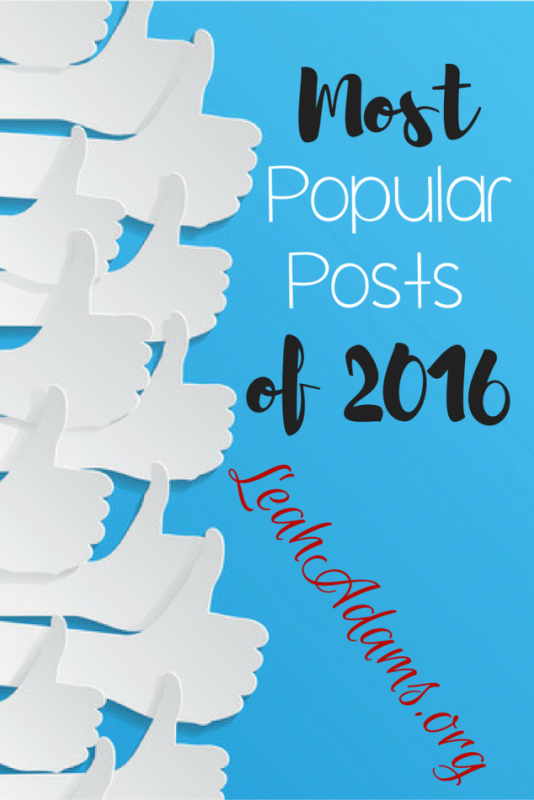 Top Posts by Views
The Rider on the White Horse from Revelation 6
It's My Birthday and I'm Giving You A Gift
John's View of Jesus, A Printable and A Giveaway
Mentoring: Lessons From An Older Woman
What Do You Do When You Don't Know What To Do?
It's Time to Get Rid of Stinkin' Thinkin'
Top Posts By Comments
Can You Discern Right From Almost Right?
The Loft Link-Up ~ Fall Recipes
The Loft Link-Up ~ Contentment
Sharing Life ~ Someone Needs You to be Their People
Encouragement for When Life is Hard
It's Time to Get Rid of Stinkin' Thinkin'
Thank YOU so much for your presence here. You are why I write…well, you and Jesus. I'd love to hear from you about what blessed you at LeahAdams.org this year. AND about what I could do better to serve you. My goal is that my writing would encourage you to draw nearer to Jesus and walk out the Christ-life for the world to see.
I have some new things planned for 2017 and am seeking the heart of Jesus for all of them. Have a Happy New Year, friends, and I will see you back here on Monday.
(Visited 147 times, 1 visits today)