NOTE: This post contains affiliate links.
In late 2000 the Lord placed within my heart a ravenous hunger for studying the Bible. Honestly, I had no idea how to do it and do it effectively. Oh sure, I had been in church since 9 months before I breathed earth's air, but had only spent a year or so doing any sort of study of the Scriptures. Yet, in those days in 2000 I knew that I MUST begin to study God's Word.
Thankfully, I had a friend who had done a Beth Moore Bible study and she, too, was experiencing the same hunger as I. We prayed a lot and with the Lord's leading organized a small ladies' Bible study group. We began with Beth Moore's study, Jesus, The One and Only.
Y'all, I was like a starving person who had just pulled up to a banquet table laden with every food imaginable. I was like a dry sponge who had been submerged in a sink of water. I could not get enough of the Word of God. I would spend at least an hour a day drinking in the sweet taste of Scripture. My faith began growing and my heart began changing into one that looked more like that of Jesus.
That is what the study of God's Word will do for you. An expanding faith and softened heart.
Seventeen years later, I still cannot get enough Bible in my heart. God's Word is living and active and speaks into any situation in my life. It is my corrector, my comforter, my teacher, my encourager. In good times and bad I run to Scripture for sustenance.
Over the years, I have used many different methods for studying Scripture. That is why I am so, so excited about my friend, Arabah Joy's, new resource Bible Study Methods: 7 Ways in 7 Days. Because really, Burger King was onto something when they used the "have it your way" slogan for 40 years. Bible study is not a one size fits all thing. The method that I use to study God's Word may not appeal to you and vice versa. AJ has put together a resource that I believe will be the BOMB to many people who are unsure of how to study the Bible. It will also provide new and different ways to do Bible study for those of us who are Bible study veterans and anything in between.
Let me tell you a bit more about this exciting resource.
This 7-day course will:
teach you 7 different Bible study methods
streamline the learning process so you don't spend weeks or months figuring it out
give you tools for going deep into God's word in as little as ten minutes a day (perfect for busy moms!)
provide ready made templates and printables you can choose from
show you exactly how to do each method with the daily videos
revolutionize your time in God's word and discover fresh intimacy with God in the process.
equip you to nourish yourself with the Scriptures
teach you how to develop your spiritual senses
help you establish a Bible study habit!
Plus, you can go at your own pace and you'll have lifetime access to the course materials.
What's not to love about that!
Bible study is one of those things about which I am dogmatic. There is NO OTHER WAY to grow your faith and develop a relationship with Jesus than the study of God's Word. Period. It just will not happen if you do not study the Bible. You will remain a spiritual baby without Bible study.
So, are you ready to learn new ways to study the Scriptures? If so, I want to invite you to purchase Bible Study Methods: 7 Ways in 7 Days and get started on your own journey to intimacy and vibrant faith in Christ. Simply click the links in this post and you will be taken to AJ's website where there is lots more information about this resource.
BONUS: Arabah Joy is offering a BONUS for everyone who purchases Bible Study Methods this week. It is a 6 week Bible Study Plan for the book of Ephesians using the 7 methods taught during the course. How awesome is that!!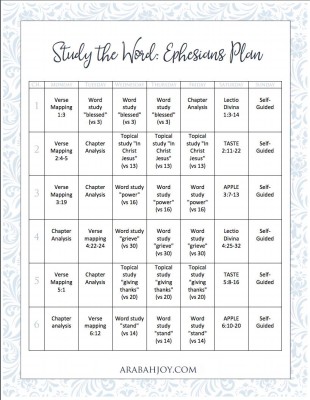 I, too, want to reward you for taking a step toward a deeper walk with Jesus and here is how I am going to do it.
First, if you purchase Bible Study Methods using my links in this post, I have a FREE resource that I will send you. It is a listing of 11 Bible studies that I recommend. All you have to do to get it is send me (via email: [email protected], direct message, text, carrier pigeon!) proof of purchase of Bible Study Methods. That's it. Then I will email you the 11 Bible Studies resource.
Second, everyone who purchases BSM this week using my links will be entered to win a copy of any of the Bible studies that I have written (you choose the study): HeBrews: A Better Blend, Tasting Grace: A Mentoring in the Kitchen Bible Study, or Legacy: It's What You Leave Behind. In order to be entered to win, however, you must leave me a comment here telling me you purchased or email me at [email protected]
Sweet blessings, friends, as you study God's precious Word!
(Visited 466 times, 1 visits today)