Thank you for coming to my corner of the WWW today. I'm pretty excited about what I have to share with you on this first Friday in August. For the vast majority of the life of my blog, Fridays have been a day for either posting with a link-up or just a general post about random things. Fridays have been easy and good, and I want it to remain so.
However, I am feeling led to establish a theme for Fridays. Given the direction that my ministry has taken over the past year or so, it was not difficult for me to determine what that theme would be. God has taken me from a larger, stage-centered ministry to a smaller, more individual-focused ministry in the past year. While I still adore speaking and teaching publicly, God has made it clear that this season is about sharing life with others. The crowning jewel of this season is Tasting Grace ~~ both the event and the book.
I sense that God is encouraging women of all decades to return to the biblical practice of mentoring. In our social media driven world, we are starved for authentic, soul-nurturing, God-honoring relationships. A text message will never fill that need. Nor, may I say, will a blog post. But, I believe God is calling me to be more intentional with my Friday posts.
To that end, I will set my heart on offering posts on Friday that encourage us toward SHARING LIFE. My Sharing Life posts will center around three areas:
Friendship and Mentoring
Food and Cooking
Faith
My desire is to offer something that encourages you in one of these areas. One Friday post might be a recipe that I love or that I want to try. Another Friday might be a life lesson that God prompts me to share with you as your friend and mentor. Yet another Friday post could be a challenge from Scripture, a Bible study recommendation, or a testimony (mine or  that of a friend). Sharing Life on Fridays will be all about encouraging each other on this journey that we are taking.
I hope you will eagerly anticipate Fridays and find something here that blesses you.
For our first Sharing Life post, I would like to offer you a recipe that has been passed down for a few generations in my family. It is for Baked Squash. My family has never been big on deep-fat fried foods, so this recipe for Baked Squash gives us the comfort food feeling without all the deep fat calories. I not only use this recipe for squash, but I also use it for okra or green tomatoes.
So, for a family recipe like this one, the measured amounts are a guest-imate. When you make the coating for the veggies you make it thick enough to stick, but thin enough to easily coat them. Make sense???
For a downloadable version of this recipe, scroll to the bottom of the post.
Baked Squash
8-10 inch cast iron skillet
7-8 medium yellow squash (may use okra)
1 large onion, sliced
¼ – ⅓  cup canola oil
⅓ – ½ cup self rising corn meal
Salt and pepper, to taste
Pre-heat oven to 425 degrees F.
Wash and slice squash. Peel and slice onion.
In skillet mix oil and cornmeal, as well as pepper and salt. Turn heat to medium-high and cook, stirring regularly. Cook until mixture begins to brown, then turn off heat.
Mix in squash and onion and coat vegetables with cornmeal mix.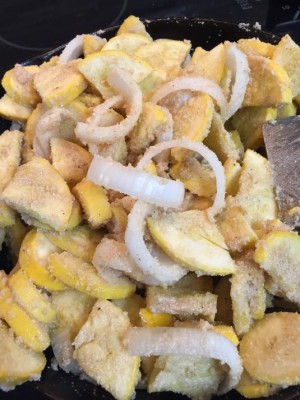 Bake in oven for 45 minutes to 1 hour. Stirring with metal spoon or spatula every 15 minutes. Bake until squash coating is golden brown.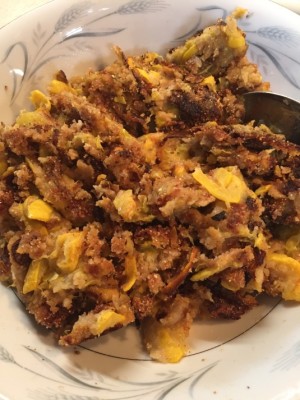 (Visited 216 times, 1 visits today)