Jesus has little tolerance for compromising the Word of God, and last week we heard our Lord speak to the church at Pergamos, aka Pergamum. I offered a video that gave some insight into some of the people mentioned in this passage. If you missed that post and video I encourage you to click HERE and take a few moments to read and listen. Doing so will help you grasp today's post much better.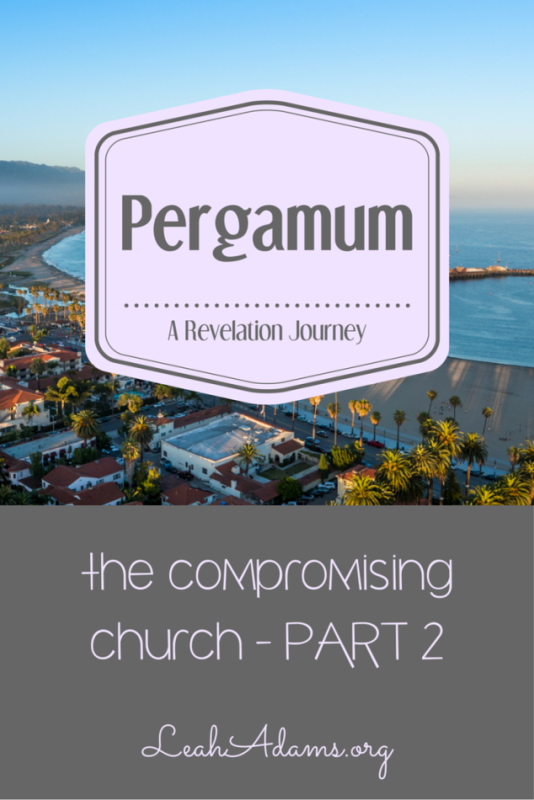 Today we slip back into the church at Pergamos, take a seat near the window, and listen to the words of Jesus to this church that is allowing compromise to ruin its witness in the world. Listen attentively as Jesus addresses this congregation.
12 "And to the angel of the church in Pergamum write: 'The words of him who has the sharp two-edged sword.
13 "'I know where you dwell, where Satan's throne is. Yet you hold fast my name, and you did not deny my faith even in the days of Antipas my faithful witness, who was killed among you, where Satan dwells.
14 But I have a few things against you: you have some there who hold the teaching of Balaam, who taught Balak to put a stumbling block before the sons of Israel, so that they might eat food sacrificed to idols and practice sexual immorality.
15 So also you have some who hold the teaching of the Nicolaitans.
16 Therefore repent. If not, I will come to you soon and war against them with the sword of my mouth.
17 He who has an ear, let him hear what the Spirit says to the churches. To the one who conquers I will give some of the hidden manna, and I will give him a white stone, with a new name written on the stone that no one knows except the one who receives it.'
Let's begin by looking at the commendation that Jesus gives the church at Pergamum. He acknowledged that they had suffered persecution. It is likely the persecution they suffered was because they refused to worship the emperor. Apparently there were still faithful believers at Pergamum because Jesus states that there are only 'some there' who have strayed into idolatry and sexual immorality. It seems that the faithful had either refused to, or been unable to, practice church discipline. By tolerating the sexual immorality and idol worship of the 'some', those believers were in danger of losing their commendation.
Jesus' letter is to the church as a whole, and in it He tells the entire church to repent. If they do not, then He will come and wage war against those who are walking in idolatry and sexual immorality. Just as cancer in one part of the human body affects the entire body, so it is with sin. The entire church needed to repent; either of acts of immorality and idolatry, or of compromise with the ones who performed those acts.
Let me tell you, friend, it is far easier to clean up our own act than to have Jesus come in and do a stem-to-stern cleaning. He was giving this church the opportunity to avoid the pain of having Him wage war in their midst. We are always wise to heed the prompts of Christ when it comes to sin in our hearts so that He does not have to take us to the proverbial woodshed.
Jesus promised that those who heeded His warning would receive a few things:
Hidden manna

White stone

New name
These items would have meant a great deal to these Christians. They were Jewish, and being Jewish they would know the story of the manna that their forefathers ate in the desert. Jesus was promising to be their Bread of Life, their manna in the desert, as they lived in the place where Satan's throne was located. He would be what sustained them in the dark times of persecution.
He also promised the overcomers a white stone. In ancient times 'a white stone was put into a vessel by a judge to vote acquittal for a person on trial.' It was also given to the winner of an athletic contest and used like a ticket to gain entry into a feast where the winners of the games were celebrated.
Both of these uses apply to the believer in a spiritual sense. You and I have been declared not guilty because of the blood of Jesus that cleanses us from our sin. We have also, because of that same blood and the resurrection of Jesus, been invited to a great celebration, the marriage feast of the Lamb that will take place when Jesus returns to rule and reign.
The new name that the overcomer would be given suggests a beautiful intimacy between Jesus and the believer. He will speak your new name lovingly to you…a name that has never been spoken before…never been profaned, never been called out in anger, never been used to shame you. The true Lover of your soul will speak your name in the way that only a lover can speak to His beloved. Stunning!
That finishes up our visit in Pergamos. I hope you have been challenged and encouraged. Now, let's engage.
Was there anything in these two posts about Pergamos that challenged or encouraged your faith?

Is there sin in your heart that Jesus is prompting you over? Are you willing to do what is necessary to repent and turn from it so that you avoid the correction and discipline of Jesus?

How does the thought of a new name, known only to you and Jesus, minister to you?
(Visited 192 times, 1 visits today)