We live in a day of compromise….in business, in the politics, in relationships, in the church. Compromise can be good, or it can be very bad. This week and next, we will visit the church in Pergamum (Revelation 2: 12-17 ESV) where compromise has earned this group of Christians a sharp rebuke from Jesus. Let's be a fly on the wall and listen in.
12 "And to the angel of the church in Pergamum write: 'The words of him who has the sharp two-edged sword.
13 "'I know where you dwell, where Satan's throne is. Yet you hold fast my name, and you did not deny my faith even in the days of Antipas my faithful witness, who was killed among you, where Satan dwells.
14 But I have a few things against you: you have some there who hold the teaching of Balaam, who taught Balak to put a stumbling block before the sons of Israel, so that they might eat food sacrificed to idols and practice sexual immorality. 
15 So also you have some who hold the teaching of the Nicolaitans.
16 Therefore repent. If not, I will come to you soon and war against them with the sword of my mouth.
17 He who has an ear, let him hear what the Spirit says to the churches. To the one who conquers I will give some of the hidden manna, and I will give him a white stone, with a new name written on the stone that no one knows except the one who receives it.'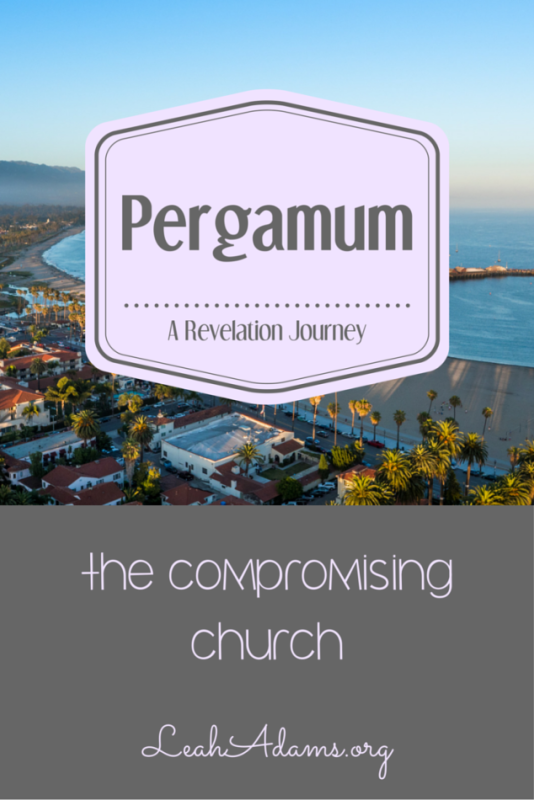 Pergamum, also known as Pergamos, was called the greatest city in Asia Minor. It was built on a hill that towered about 1000 feet above the plain. Pergamos was situated about 100 miles north of Ephesus and boasted a population of around 250,000. Today ancient Pergamum is known as Bergama, Turkey.
There are a couple of significant bits of trivia about Pergamos. The city library was said to house 200,000 handwritten volumes. Legend has it that the people of Pergamum invented parchment to provide writing material for the library.
In the city, there was a temple to the Greek god, Aesculapius, the god of healing. The insignia of Aesculapius (a serpent entwined on a staff) is still used today as the symbol of the medical profession. The temple of Aesculapius was filled with non-poisonous snakes. People seeking healing from the Aesculapius would either lie down or sleep on the floor of the temple in hopes that one of the snakes would touch them and they would be healed. ARE YOU KIDDING ME? Just NO!
Other temples in the city included those of Caesar, Zeus, Athena, and Dionysus. The temple of Zeus was quite impressive, and may have been what is referred to as the seat of Satan/where Satan had his throne. The altar of the temple of Zeus was excavated in 1878 and is on display in Germany today.
The name Pergamos means 'married', and is highly significant when applied to this church that was the recipient of Jesus' letter. This church should have been married to Jesus, and only to Jesus. However, we will see that Jesus' rebukes them for compromising, spiritually and sexually, with the world and with Satan. This church was probably founded on one of Paul's missionary journeys.
Let's look at the greeting Jesus uses for this church. He greets them as 'He who has the sharp two-edged sword". You may recall in THIS POST we looked at the significance of the descriptors of Christ. The sword refers to the Word of God and its power to expose and judge our thoughts and intents. (Hebrews 4:12) Jesus' greeting to this church is the first negative greeting issued, and it should have reminded these Christians that Jesus is the Judge and executioner of all who refuse to stay true to Him.
Let's wrap it up. Please view the video below for some information on the people who are mentioned in verse 15, the Nicolatians and Balaam. Then, return here to engage in discussion. We will visit with Pergamum again next week.
Let's engage.
How does the meaning of the name Pergamos/Pergamum strike you?

Share some examples of compromise that you see in the world today. It may be compromise for good, or it might be for evil.

No city or town is perfect, but to live in a place that was described as 'where Satan has his throne' should have caused the Christians in Pergamos to be on guard. What lessons can we apply to our lives today because of this?

Was there anything in today's lesson that encouraged your faith? Please share.
(Visited 489 times, 1 visits today)