It looks like I may be settling into an every Monday posting schedule here at the blog. We shall see.
Over the past couple of years I have had the pleasure of getting to know two women who have made lasting impressions on my heart. It all began when we ended up in a writing group together. Today I have the pleasure of introducing you to one of those ladies.
Rebekah Hallberg is someone whom I have never met in real life, but I just know that if we did meet, we would be BFFs. Over the last year, Rebekah has been such an incredible encourager to me. Not only in words, but also in her actions. In addition to being a writer, wife, mom, and all around awesome friend, Rebekah is a virtual assistant. If you see almost anything from me on social media, you can be fairly certain that Rebekah was the one who created it. She is such a blessing to me because social media is a must in ministry these days, but I just do not enjoy spending massive amounts of time creating posts and tweets. Enter Rebekah. She is a master at Pinterest and Twitter and Facebook.
Today I am so excited to introduce you to Rebekah and her new book, Hope for the Hurting Wife. This book, y'all! It is the creation of Rebekah and another wonderful woman that I will introduce you to very soon, Jen Stults. I'm convinced that many wives out there would be so blessed by this book and its authors, because as wonderful as marriage can be and is, it can also be incredibly painful. So without more words from me, allow me to introduce you to Rebekah.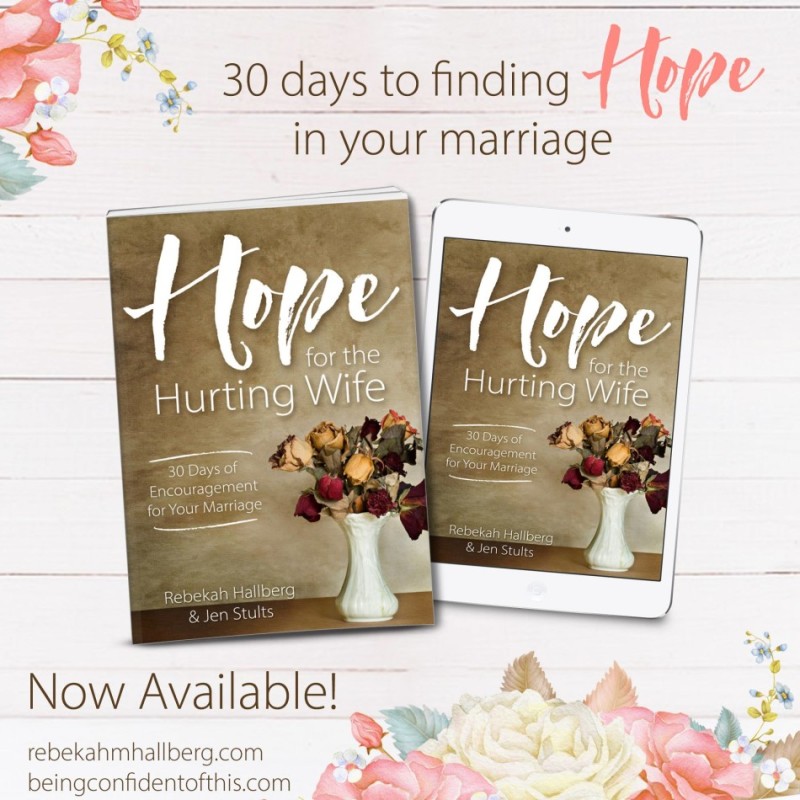 LA: Rebekah, I may have readers who do not know you. Would you please tell them a bit about yourself?
RH: Thank you, Leah, for having me here! What a blessing to be able to spend some time with you and your readers! I grew up as a missionary kid. I was born in the states, but spent 4 years in West Africa when my parents followed God's call to missions overseas. I learned about faith in God from a very young age, and my faith has always been a strong, important part of my life.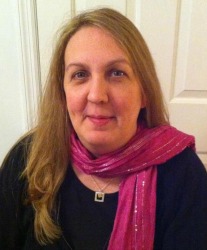 I have been married for 18 years and my husband and I have 3 children. I hold a degree in education and have worked in both regular and special education settings. I originally started my blog as a place to document our family's journey with special needs after our second son was diagnosed with high-functioning autism. Over time, I transitioned to faith-based blogging, telling God that I'd blog about anything except marriage. Let me just pause right here for a minute to say this:
Don't tell God what you won't do.
I now blog about marriage. God must have had a few chuckles when I told Him what I would not write about. More on that in a bit.
LA: What occupies your free time? Hobbies? Interests? 
RH: I spend a lot of my free time listening to piano music as all three of our children play the piano. Our oldest son is a piano performance major at a local university and while he practices a lot at school, between all three kids, there are still multiple hours of piano practice in our home each day.
I also enjoy a good cup of coffee and some quiet time to read. I enjoy watching movies with the family and spending quiet evenings talking and laughing with my husband.
LA: What are some items on your bucket list? 
RH: I recently read an article about someone who traveled across the US by train, making particular stops at scenic destinations along the way. I think that would be a great trip to take with my husband someday! I'd also love to see our oldest play at Carnegie Hall in New York City. What an amazing opportunity that would be! I'd love to see my younger two perform as well, but God may have other plans for their lives, and in time, it will be wonderful to see them following their God-given gifts!
LA: How did you develop an interest in writing and when did you begin writing seriously?
RH: Writing is one of my newer hobbies. I am not one of those people who always knew they wanted to write – quite the opposite, in fact. I never enjoyed writing in school. It was always such a chore for me. When I started blogging, the writing came a little more easily. I think that's because I was writing about topics that I was interested in, and could write at my own pace. I've been writing seriously for about 4 years now. As I follow God's promptings on my heart, the writing becomes easier.
 LA: What is the story behind your book, Hope for the Hurting Wife?
RH: Remember when I told God that I wouldn't write about marriage? I had what I thought was a pretty normal marriage. We were both active in church, we loved each other, we loved our kids and were raising them to love the Lord – by all accounts things were good! One morning we were startled by a sudden knock at the door, followed by a lot of shouting. As we opened the door, the bottom fell out of my marriage and my world fell apart. I was completely blindsided and had no idea what was happening. Reality was being revealed and I realized that my marriage was not at all that I thought it had been. Heartbroken and utterly devastated, I started the hardest journey of my life – to pray for redemption for my marriage. It took me about 6 months to decide that I wanted to stay, that I wanted to work through the choices my husband made that nearly cost us our marriage.
I met Jen, my co-author, in a blogging group. While our backgrounds and stories are different, God brought us together and gave us a deep connection because of our stories. We realized that women needed the hope, the understanding, of another woman who has been through a crisis in her marriage. We first released a 14-day version of our book as a download in February, 2017. The response was so great that we knew we needed to do more. After a lot of praying and seeking God, we decided to combine some of our writings, and to add some content that has never been published before, and turn our book into a 30-day book that we hope will bless and encourage women at any stage of their marriage. We're proud to share Hope for the Hurting Wife with you.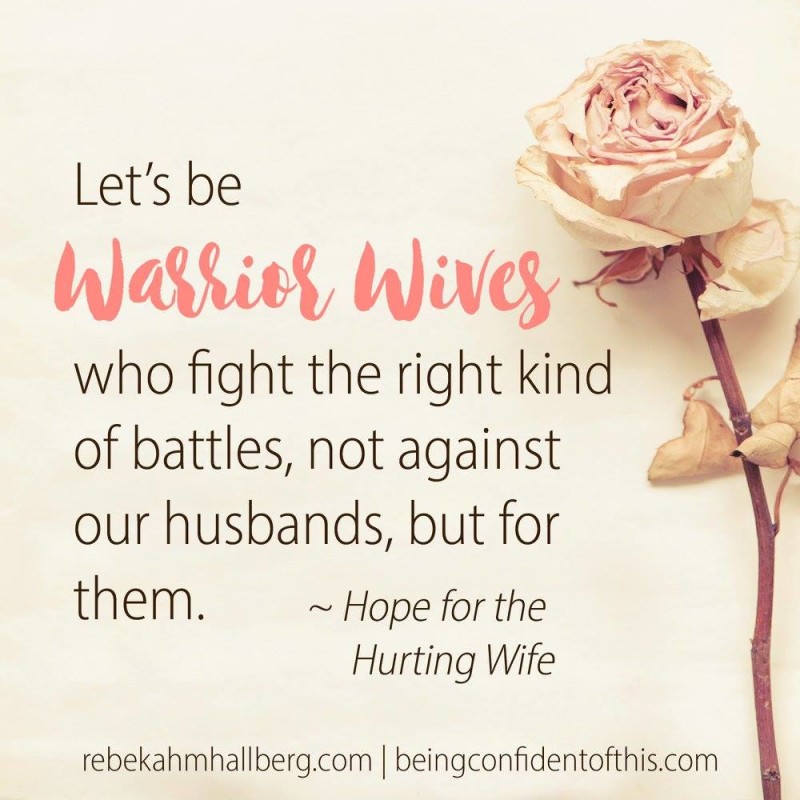 LA: Tell us more about Hope for the Hurting Wife, please!
RH: Hope for the Hurting Wife is a beautiful story of God's redemption in our marriages. The book offers 30 days of encouragement for your marriage (plus amazing bonus content at the end of the book). It's also our story of how God has redeemed our marriages. Jen and I share personal stories from some tough times we've faced. We share how God used those times to strengthen us and to give us hope as we worked on issues in our own marriages.
Each chapter addresses a different issue that we have faced, and that most women will find relatable. We cover topics such as communication, dealing with our emotions, trusting God with your marriage, and feeling stuck in the "for worse" of marriage.
We hear from many wives who are in tough situations and want to make it clear that this book is not one that pressures a woman into staying in an abusive marriage. We support the need for women to get help and to find safety if they are a victim of abuse. Our book is not a guarantee to solve the issues in your marriage or to fix your broken marriage. While we'd love to offer that hope, only God has that power. What we can do is gently point you to God, to remind you that even amid struggles in our lives, He is faithful. We can't make changes in your marriage, but He can! We use this book to offer that hope and encouragement.
LA: Rebekah, where can my readers find your book?
RH: Hope for the Hurting Wife can be purchased on Amazon.com in both print and Kindle versions. (Click links to be taken to the book page on Amazon)
SALE ALERT: The Kindle version of  Hope is available for 99 cents for a limited time, so click here to grab that deal.
LA: I would love for my readers to connect with you. How can they do that?
RH: You'll find me at Sharing Redemption's Stories (link to http://rebekahmhallberg.com ), on Facebook (link to https://www.facebook.com/rebekahmhallberg/ ), Pinterest (link to https://www.pinterest.com/RebekahHallberg/ ) and Instagram (https://www.instagram.com/rebekahmhallberg/ ).
I'd love to connect with you and be an encouragement for your marriage!
LA: Rebekah, do you have any final thoughts to share with my readers? 
RH: I'm positive that the devil came for my marriage they day they knocked on my door. I was so blindsided by all that happened, and I'm sure the devil planned for that to be the undoing of my marriage. But as I slowly waited on God, as I let Him work in every aspect of the situation, He kept reminding me how precious my family is and how much He loved each of us. He worked deep in my heart to remind me that redemption is for everyone, no matter what we've done. That reminder gave me courage to pursue redemption in my marriage.
And I want you to know that nothing is too far out of the realm of possibility for God to redeem. Nothing!
Hope for the Hurting Wife is a story of redemption because God still redeems today!
SDG/FCA!!!
NOTE: This post contains affiliate links.
(Visited 149 times, 1 visits today)