Congratulations to Michael and Cheyenne! You were chosen by random.org as the winners of Alisa's book!! Please email me at pointministries at gmail dot com with your mailing addresses.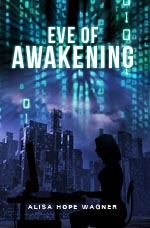 Last week I had the privilege of reading a Christian novel written by an online friend, Alisa Hope Wagner. The novel is intense, riveting, and relevant to our lives in 2013. As I read Eve of Awakening, I knew I wanted to let you, my faithful readers, know about it, and hear from it's author. If you are a fan of Christian fiction, you will definitely want to pick up a copy of this book. If you have non-Christian friends who like fiction, I would strongly encourage you to share this book with them. The gospel presentation in the novel is strong, clear, and compelling.
It is my pleasure to introduce you to Alisa Hope Wagner, author of Eve of Awakening.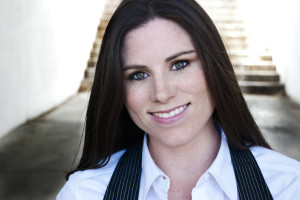 LA:  Alisa, although I know a bit about you, my readers probably do not. Tell us about you. 
AHW: I'm a military brat, so I moved around a lot as a kid. I never worried about making new friends because I always had my extroverted twin sister to make friends for me. I met my husband as a 16 year old when I sat next to him at our church's youth group meeting. We both attended Texas A & M University – Corpus Christi, and we were married after I graduated. We moved to Galveston where we entered into graduate school. I graduated from the University of Houston with a M.A. Degree in English. Now, we have three amazing children (2 boys and 1 girl), and we enjoy homeschooling them in a Christian home.
LA: Outside of writing and your family, what hobbies do you have?
 
AHW: Since I must sit to read and write, I like to balance my sedentary routine with lots of exercise. I will go stir-crazy if I don't work out or enjoy some sort of outdoor activity, like fishing, rollerblading or hiking. I also like to make inspirational word pictures that I post on my Facebook, Twitter and Pinterest. I weave Bible Verses or quotes from my blog posts onto creative images to encourage others.
LA: How did you develop an interest in writing and when did you begin writing?
AHW: When I moved to Corpus Christi, Texas, my freshmen year of high school, I discovered that my new school did not participate in the three sports I loved—volleyball, gymnastics and softball. Since my identity was very much wrapped up in sports, I had to find other means of expressing myself. I started writing more in high school; however, my grammar was horrible. I studied many years to master the art of forming sentences, paragraphs and essays. Little did I know that it would take me many more years of study to learn how to form dialogue, scenes and chapters of a novel. And I'm still learning!
 
LA:What are some of the items on your bucket list?
AHW: I would like to jump out of an airplane….with a parachute, of course!  I lived in Alaska during my middle grade years of school, and I would love to take my family back there to re-experience Alaska with a greater amount of knowledge and excitement. I like to eat at local pizza restaurants wherever I travel, so I would like to try all the different ways of making this amazing food item. I would also like to write 30 books (both fiction and nonfiction) before I retire and let the younger generation take over the process of recycling information for the new generation.
LA:Tell us about your soon-to-be-released novel 'Eve of Awaking'.
 
AHW: Eve of Awakening has brought me closer to God, and it has been one of those promises that God used to change me. No matter what happens with the book, I know that Holy Spirit has produced beautiful fruit in me through the challenges of chasing after this promise. The story is about Eve, a woman who has everything—fame, fortune, acclaim, respect, etc.—but she realizes that it's all in vain because death ultimately takes all she worked to achieve. Finally, through many difficult events, Eve discovers the one thing that gives her victory over death, Jesus' death on the cross. Her life is turned upside down when she is ripped away from all the comforts she has ever known, and thrown into a world she does not know.
LA: I read Eve of Awaking in two days. I was completely drawn in. I loved how you allowed the main character to describe the message of salvation without knowing she was doing it. The message was clear and understandable. Tell me how you decided to do it in that particular manner.
AHW: To be honest, writing Eve of Awakening has been such a learning curve for me. I just kept writing and rewriting, listening to the Holy Spirit, and changing every sentence until it sounded real and honest. I think what helps me most to write my characters is that I get to know them first. I think about them in different scenes and imagine how they would react. My stories are character driven, so I must know the good and the ugly of each one. Humans are very complex, and rich with nuances and details. Sometimes, we don't even know how we will react in a situation until it presents itself. I make a skeleton of an outline for my books, but I mainly allow the characters to express themselves uniquely as the story unfolds.
LA: I am just finishing a Bible study on the book of The Revelation. So much of what was in 'Eve of Awakening' seemed to be scenarios that could occur in the end times. My other favorite part of the book had to do with how you encouraged the reader, through the book's characters, to prepare for persecution in the days ahead. Please share with my readers what important steps we can take to prepare ourselves for the inevitable persecution of Christians that is, even now, beginning to happen in America.
AHW: I paint the end times with broad stroke in my book. I prayed a lot about this, because I know the end times is such a relevant and important topic for Christians. However, God wonderfully painted a picture that describes the emphasis of my book. He gave me an image of a flower on the beach. The beach created a hazy background, so the flower could be very distinct in the forefront. What God explained to me in this image is that the prophetic elements of my book are centered on the inner person. My story examines what happens to a person when God gets a hold of his/her life. As for the external elements, I definitely think Christians need to be aware of the events unfolding in our current time. But, what I hope to show in Eve of Awakening is that if we are abiding in God, and allowing the Holy Spirit to lead us daily, God will bring to us everything we need to be ready for what lies ahead.
LA: The ending of the book left me breathlessly waiting for the sequel. Can we expect a sequel to "Eve of Awakening"?
 
AHW: Yes, I have outlined the sequel, and I'm very excited about the new characters coming up and the reintroduction of some old characters. In the second book, I get to explore life as a "Colonial" and develop Eve's relationship with her brother.  I'm also researching a Native American tribe (I won't spoil the surprise) because Eve's new love interest will be a descendent.
LA: When will  'Eve of Awakening' be released and available to the public?
AHW: The book is available now through my publisher, but it will be released nationwide on December 10th.  My prayer is that through this book people will experience a well-spring of the Holy Spirit. Here is the link online: https://www.tatepublishing.com/bookstore/book.php?w=978-1-62902-601-5
LA: How can my readers find you? Blog? Twitter? Facebook? Website?
AHW: Website: http://faithimagined.com
Facebook: https://www.facebook.com/alisahopewagner
Twitter: https://twitter.com/alisahopewagner
Pinterest: http://www.pinterest.com/alisahope/
LA: Any final thoughts you would like to share with my readers about you or your new book?
AHW: I would love for readers to give, Eve of Awakening, to their non-Christian friends. The book tackles the hard questions of life without being preachy or in your face. It is easier to wrestle with spiritual themes through the eyes of a character you have come to respect and identify with. Eve is my witness of faith in Jesus Christ to the world. 
*********GIVEAWAY**********
Friends, Alisa has graciously offered a signed copy of Eve of Awakening for my giveaway. Plus, I will be giving away a copy. Yay!! To be entered in the giveaway please leave a comment on THIS POST. The giveaway will be open until Saturday, November 2nd, at which time I will select two winners. Please be sure and leave your name, and a way for me to contact you if you are selected as the winner. 
YOU CAN INCREASE YOUR CHANCES OF WINNING IN THE FOLLOWING WAYS: 
Comment on the post – 1 entry
Share this post on Facebook – 1 entry
Tweet about this post on Twitter – 1 entry
Be sure and come back here and let me know that you posted on Facebook and Twitter. Thanks to Alisa for allowing me to share her interview here at The Point.