Hi there! I want to begin our time together today by asking you a question. Those who are reading this post will fall into one of two categories: those who have previously studied Revelation and those who have never done an in-depth study of Revelation. So, I have a question for each group.
To those who have previously studied Revelation: How did your study impact you?
To those who have never studied Revelation: Why have you never studied Revelation?
I want to address the last group first, because I once was one of you. The reasons I never studied Revelation were a few: I was frightened by the events of the book; I felt that there was no way I could understand what I studied because of all the symbolism in it; It seemed like even most pastors avoided the book of Revelation so maybe it was a book that was just in the Bible, but we really did not need to study it much.
In 2012-ish my small group began studying the book of The Revelation. Every last one of us entered the study 'with fear and trembling' because we had no idea if we could even do the study. The study was intensive and laborious, but boy, was it good! So, with that said, allow me to now answer the question I asked the first group. My study of the book of Revelation impacted me in two ways: It deepened my faith and trust in the sovereignty of God (God's got this!) AND it encouraged me greatly to know that Jesus knows exactly what goes on in His Church. He will deal with any wrongs and He will reward faithfulness.
That is a perfect segue into why I am investing so much time and effort into writing this Revelation series here at LeahAdams.org. As a Bible teacher I believe God has tasked me with helping others dig into Scripture, and there is no Scripture that is less dug-into than Revelation. I am absolutely certain that God gave me the assignment of helping anyone who would happen by LeahAdams.org study the book of The Revelation. So, if you are new here, today's post is the latest in an almost 2-year series. Would you like to read some of the past teachings? Please go here and you will find every teaching linked in the order in which they appeared on the blog beginning with Revelation chapter 1.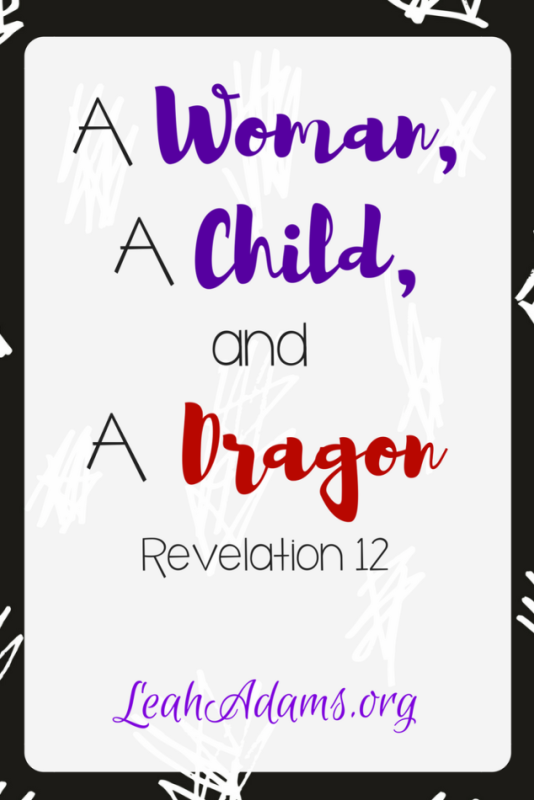 On to today's study where we flip the page and journey into Revelation chapter 12. You may recall that my friend, Lisa Cockerham, graciously offered drawings of each chapter of Revelation. These drawings depict the major happenings of each chapter. You may click the following link to download and print the FREE drawing for chapter 12.
Beginning today and moving forward we will encounter much symbolism. Some of the symbolism's meaning will be immediately obvious, while others will require some digging. Today's passage includes symbolism that is pretty easy to understand and will not require much commentary from me. Take a look at Revelation 12:1-6 (ESV).
1 And a great sign appeared in heaven: a woman clothed with the sun, with the moon under her feet, and on her head a crown of twelve stars.

2 She was pregnant and was crying out in birth pains and the agony of giving birth.

3 And another sign appeared in heaven: behold, a great red dragon, with seven heads and ten horns, and on his heads seven diadems.

4 His tail swept down a third of the stars of heaven and cast them to the earth. And the dragon stood before the woman who was about to give birth, so that when she bore her child he might devour it.

5 She gave birth to a male child, one who is to rule all the nations with a rod of iron, but her child was caught up to God and to his throne,

6 and the woman fled into the wilderness, where she has a place prepared by God, in which she is to be nourished for 1,260 days.
Let's break this passage down and take a look at the two signs that appeared in heaven detailed herein.
Sign #1
What does it say about this sign?
A woman
Clothed with the sun
Moon under her feet
Crown of 12 stars on her head
Pregnant and in the throes of childbirth
Gave birth to a male Child who will rule all the nations with a rod of iron
Child was caught up to God and to his throne
Woman fled into the wilderness to be nourished in a place prepared by God for her
The woman is generally accepted to represent the nation of Israel. The description of her being clothed with the sun, the moon under her feet, and the crown of 12 stars on her head draws our memories back to the vision/dream that Joseph had in Genesis 37. Recall that his dream was that the sun, moon, and eleven stars were bowing down to him. Ultimately his entire family (the beginning point of the 12 tribes of Israel) bowed to him in Egypt.
This woman (Israel) is pregnant with a male Child (Jesus) who will one day rule the nations with a rod of iron. Check out Psalm 2:9, Daniel 2:40, Revelation 2:27 and 19:15 for the prophecies linked to Christ ruling with an iron rod.
Sign #2
What does the passage say about this sign?
Great, red dragon
Seven heads
Ten horns
Ten crowns on his heads
Tail swept down a third of the stars of heaven and cast them to earth.
Dragon stood before the woman as she gave birth in order to devour her child
The dragon is accepted to be Satan, and the reference to his fall and the subsequent fall of 1/3 of the heavenly hosts pretty much seals this identification. Satan desired to get rid of Christ and the cross was his tool for that, but Jesus rose from the dead, ascended to heaven, and lives today with God.
Let's wrap up for today, but I will be back soon with more from Revelation 12. Have a wonderful Thanksgiving, friend.
SDG/FCA!!
NOTE: This post contains affiliate links.
(Visited 141 times, 1 visits today)