Do you recall when you were a child and your parents disciplined you? Perhaps it was a spanking, or time-out, or something else. The goal of discipline is usually to encourage a change in behavior or speech. All throughout Scripture there are examples of God using discipline to encourage heart change. Last week we saw the most sweeping act of discipline on the part of God that has ever hit the earth, other than the flood in the time of Noah. There is a difference in this discipline, however.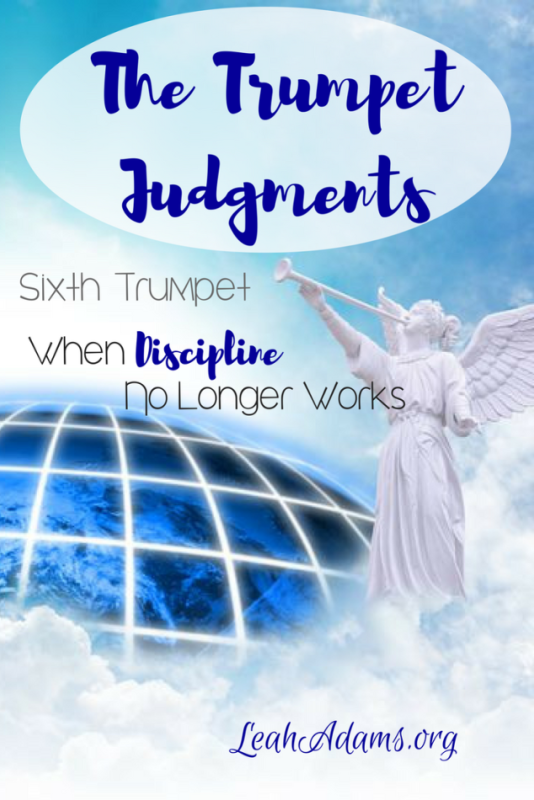 Instead of having the goal of reformation, the Revelation 9 discipline is retributive, which means that God is DONE and people are now being judged for their sin against Him. If you studied with us last week, you know that the events that will take place as a result of the sixth trumpet are horrendous and bring widespread death to the earth. Just when it seems like it cannot get worse, I'm gonna tell you that it will. Today in our study we examine two verses in Revelation 9 that are some of the saddest verses in the entire Scripture. Let's take a look.
20 The rest of mankind, who were not killed by these plagues, did not repent of the works of their hands nor give up worshiping demons and idols of gold and silver and bronze and stone and wood, which cannot see or hear or walk,

21 nor did they repent of their murders or their sorceries or their sexual immorality or their thefts.
The earth is reeling from multiple judgments that have devastated the land, sea, heavens, and her people. Millions of people are dead; in fact, over half of the population of earth has been killed. It is in this scenario that we find Revelation 9:20-21 telling us that, in spite of all that has happened as a result of the seal and trumpet judgments, mankind does not turn to God.
Whaaat?? Are you kidding me?
This, my friends, is your classic case of hearts that are hardened toward God because of sin. Impossibly hardened hearts. Irreparable hearts. There is no mention of the Holy Spirit of God drawing the hearts of the unsaved to Christ. There is only judgment, which begs the question of whether there are believers on earth at this time. Has the rapture already occurred? Press hold on that question. We will return it.
Let's take a look at five things in these verses of which mankind will not repent in that day.
Making idols and worshipping demons
In that day there will be rampant idolatry. People will create idols and worship them. Does that mean what they are worshipping will be little statues that sit on a shelf? Not necessarily. Even today, people worship all kinds of idols….money, status, homes, jobs, physical abilities. Behind every form of idol worship is one who feeds it and encourages it. That one is Satan. His goal is to counterfeit everything that God is and does, including worship. If he can get men and women to worship anything other than God, the devil has succeeded. In the coming days, he will be quite successful in convincing humanity to worship anything and everything other than God….and to not be repentant over it.
Murders
This one requires little explanation. The hearts of men and women will be so hardened and evil that murder will be rampant, and if Christians are still on this earth, surely they will be the prime targets.
Sorceries
The Greek word that is used here is pharmakeia which means the use of drugs. As a pharmacist, I see a rapidly advancing drug culture in our society today. In the last days, the use of drugs, potions, poisons, etc will be epidemic. They will be used as part of magic, sorcery, and divinations.
Sexual immorality
Another Greek word used in the original manuscript gives us insight. The word porneia refers to a preoccupation with sexual themes that is base, selfish, and abusive.
Hello! We are certainly seeing that take place in America and around the world. Consider the epidemic of human sex trafficking in the world today, as well as homosexuality and inappropriate heterosexual sex.  We ain't seen nuthin' yet, folks!
Thefts
A complete lack of honesty will be widespread over the face of the earth as people claw and fight for food, clothing, shelter, and medical care. It will be a dog-eat-dog world in that day.
No one will repent. Hearts will be harder than a diamond. It will be a sad and frightening time for humanity. The time to turn your heart to Jesus is NOW. Do not wait, friend. God's forgiveness and mercy are waiting, but there will be an end to it one day.
Want to know more about why I choose Jesus? CLICK HERE.
SDG!
NOTE: This post contains affiliate links. 
Want to really dig into Revelation? Write out the entire book using a Journible. I love my Journibles and I think you will as well. Check it out.
Looking for a Valentine's Day gift for your sweetie?
Shop Amazon Devices – $10 Off Fire Tablet 
(Visited 107 times, 1 visits today)