Before we get into our Revelation lesson, I  wanted to remind you about the Come Away retreat for women that I will be hosting in September. It will be a time of intimacy with Jesus for a handful of women. I would love for you to be one of those women. Click HERE to learn more about the retreat.
~~~~~~~~~~~~~~~~~~~~~~~~
Hello there! Are you a fan of super heroes? You know…Power Rangers, Super Man, Batman, Wonder Woman…..characters that appear human but have amazing, other-worldly powers that are wielded to accomplish good.
When I was child my sister and I loved to watch Wonder Woman. Lynda Carter played a character that was beautiful and possessed amazing powers. One minute she would be an ordinary woman, the next she would spin around and around like an ice skater and in a burst of light she became Wonder Woman. She could run faster than anyone, jump higher than everyone, and those wrist bands and her magic lasso! Ah, I wanted a set of those so badly. She was the ultimate super hero in my 13-year old mind.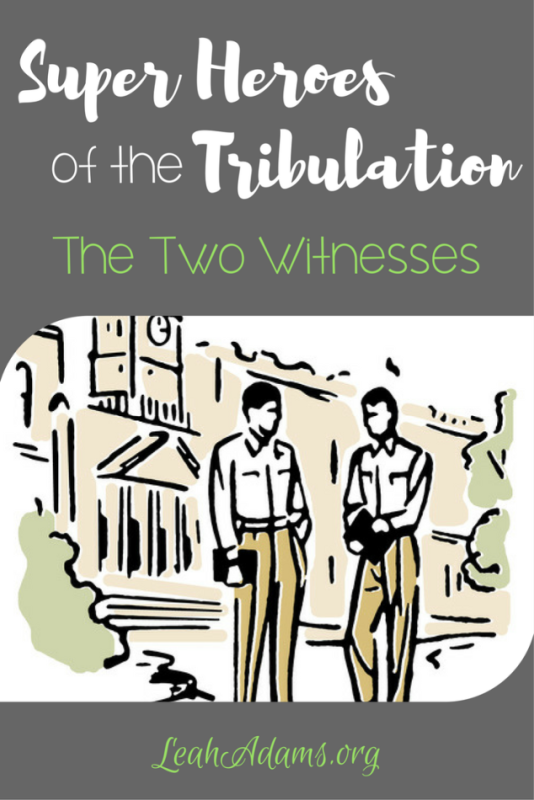 Did you know there are a couple of guys that will appear during the tribulation at the end of time who are a little bit like super heroes? We began our look at them in this post, and determined that it is impossible at this point to know exactly their identity. Today, let's look on into Revelation 11 to discover the scoop on these two Tribulation Super Heroes.
4 These are the two olive trees and the two lampstands that stand before the Lord of the earth.

5 And if anyone would harm them, fire pours from their mouth and consumes their foes. If anyone would harm them, this is how he is doomed to be killed.

6 They have the power to shut the sky, that no rain may fall during the days of their prophesying, and they have power over the waters to turn them into blood and to strike the earth with every kind of plague, as often as they desire.

7 And when they have finished their testimony, the beast that rises from the bottomless pit will make war on them and conquer them and kill them,

8 and their dead bodies will lie in the street of the great city that symbolically is called Sodom and Egypt, where their Lord was crucified.

9 For three and a half days some from the peoples and tribes and languages and nations will gaze at their dead bodies and refuse to let them be placed in a tomb,

10 and those who dwell on the earth will rejoice over them and make merry and exchange presents, because these two prophets had been a torment to those who dwell on the earth.

11 But after the three and a half days a breath of life from God entered them, and they stood up on their feet, and great fear fell on those who saw them.

12 Then they heard a loud voice from heaven saying to them, "Come up here!" And they went up to heaven in a cloud, and their enemies watched them.

13 And at that hour there was a great earthquake, and a tenth of the city fell. Seven thousand people were killed in the earthquake, and the rest were terrified and gave glory to the God of heaven.

14 The second woe has passed; behold, the third woe is soon to come.
In this passage we have four vignettes that we need to examine. This may take a couple of weeks, so settle in.
Vignette #1 – Who Are These Witnesses and What Powers Do They Possess
Vignette #2 – The Death of the Two Witnesses
Vignette #3 – The Resurrection of the Two Witnesses
Vignette #4 – The World Situation
Vignette #1.
Scripture makes it clear that these two men serve at the pleasure of God when we are told they stand before the Lord of the earth. The mention of olive trees, as well as the candlesticks, points to their nationality being Jewish. Scripture references to olive trees or branches almost always signify the Jewish nation. If you have studied the Old Testament tabernacle you will know that one of the key pieces of furniture was a golden candlestick that provided light for the Holy Place and pointed forward to Jesus being the Light of the World.
The sole purpose of these two witnesses on earth during this troubled time in history is to prophesy about the return of Christ to the earth in a final attempt to turn the hearts of men to God. The protection of God rests on these two men, and anyone who attempts to harm them is incinerated by fire that comes from their mouths. Gives a whole new meaning to 'ash in a flash'!
God has given them the power to keep the rain from falling, to turn the waters to blood, and to strike the earth with all manner of plagues. This is reminiscent of the plagues that Moses called down onto the Egyptians in the book of Exodus when Pharaoh refused to allow the Israelites to leave Egypt. Horrors designed to turn the heart toward God or God's people.
Let's stop here and return next week to visit the other three vignettes that surround the presence of the two witnesses on earth.
SDG/FCA!!
NOTE: This post contains affiliate links.
(Visited 81 times, 1 visits today)