WELCOME!
If you have been studying The Revelation with us since the first of the year, you have a working knowledge of the first three chapters of the book of The Revelation. In those chapters, we witnessed John's vision of Jesus. We heard God tell John to write down what he sees and hears. Jesus asks John to take down seven letters that will be sent to seven churches in Asia Minor. I hope you were able to follow along in that study. It is a rich study that should serve to challenge our heart and increase your faith in Christ.
If you would like to review any of those teachings, please scroll down to the area on the right side of my website where it says, "Categories". Click on the 'select category' box. A drop-down box will appear. Scroll down and click on 'Revelation study'. This will bring up all the posts that I have offered in this series. Feel free to peruse them at your leisure. If you are reading today's post via email and would like to review past teachings in this series, please click HERE to be taken to my website, then follow the preceding instructions.  
I think now is a good time for me to offer a few disclaimers about our study of The Revelation. These were put forth in the first post that I wrote in January, and I want to remind you of them again.
No one on this earth understands everything about The Revelation.

I am not a biblical scholar. I do not have all the answers that will be posed in this journey. I am willing to be taught.

The Scriptures will be my primary text for this study, however, I will refer to commentaries and lexicons in my posts.

I will offer my opinions on the texts based on my own personal study. I encourage you to do the same.

I will not tolerate snarky, condescending, or ugly comments. They will be deleted. There are many interpretations of The Revelation and we can agree to disagree on certain points.
Now, with that taken care of, let's move into Revelation 4 (ESV). Today, we will begin with only the first five verses. I will offer a bit of teaching, then we will finish looking at these verses next time we are together.
1 After this I looked, and there before me was a door standing open in heaven. And the voice I had first heard speaking to me like a trumpet said, "Come up here, and I will show you what must take place after this."

2 At once I was in the Spirit, and there before me was a throne in heaven with someone sitting on it.

3 And the one who sat there had the appearance of jasper and ruby. A rainbow that shone like an emerald encircled the throne.

4 Surrounding the throne were twenty-four other thrones, and seated on them were twenty-four elders. They were dressed in white and had crowns of gold on their heads.

5 From the throne came flashes of lightning, rumblings and peals of thunder. In front of the throne, seven lamps were blazing. These are the seven spirits of God.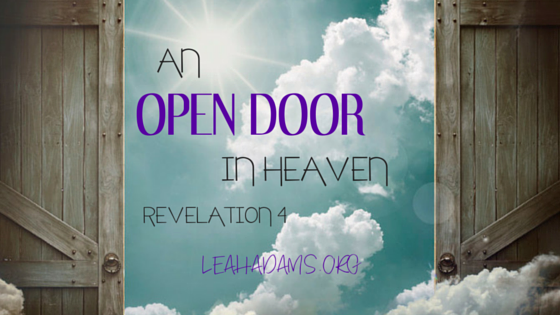 Every time I read this passage I am not sure whether to fall on my face or stand transfixed at what surely left John slack-jawed.
The chapter opens with the words, "after this." After what?
After John was in the Spirit on the Lord's Day.
After he heard a loud voice like a trumpet.
After He saw the vision of the resurrected Christ.
After John probably needed to change his underwear when Jesus spoke to Him.
After Jesus gave John the letters to the seven churches and John wrote all of it down.
After this…..as if all of that was not enough to make John want to pinch himself to make sure he was awake….John sees an open door in heaven and hears the same voice he heard at first (chapter 1) commanding him to 'come up here'. The voice promises to show John 'what must take place after this'. 'This' being all the events of chapters one through three.
Put yourself in John's sandals. The man is 90 years old. It is a wonder he didn't have a heart attack when he heard that first voice and saw Jesus in chapter 1. Now, he is being summoned to heaven. Lord, have mercy!!
Okay, let's stop there for today. Use your imagination and share your thoughts about what all of this was like for John. Remember, every time you leave a comment on one of my blog posts, you are entered into that the giveaway for that month.
(Visited 476 times, 1 visits today)