APRIL GIVEAWAY WINNER: Congratulations to Christine, the winner of my April commenters giveaway. Christine, please email your mailing address to me at [email protected]  ALSO, I never heard back from the February or March winners, so I am drawing two new names. The new February winner is Jerralea, and the new March winner is Carlie. Please send your mailing address to [email protected] I will get all three of the winners' gifts in the mail to you! CONGRATULATIONS!
Today we end our journey with the seven churches of The Revelation. It is my heartfelt prayer that this study has spoken into your heart in ways that I cannot even imagine. God's Word always accomplishes the purpose for which He gave it, and I pray His purpose has been accomplished for you and for me.
Oh, and did you want the Seven Churches chart that I am offering? I told you about it last week in THIS POST. It is a concise overview of all seven churches. If you would like to receive it, please send me an email to [email protected]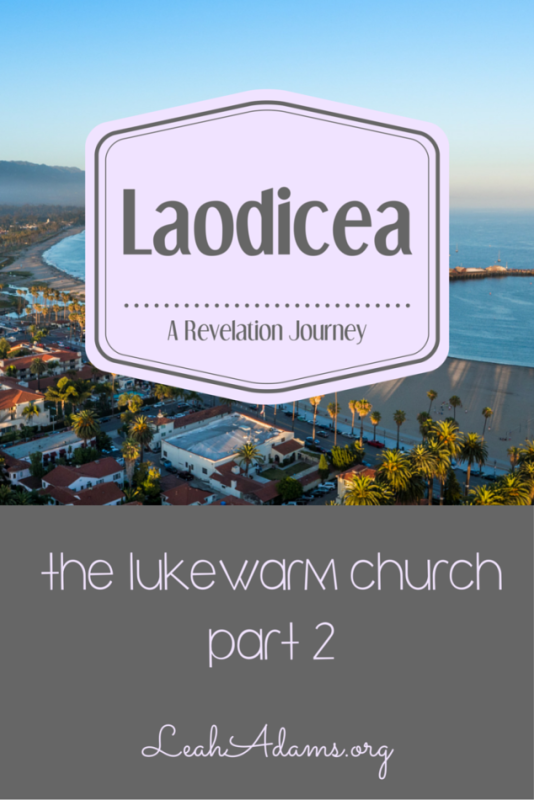 Let us consider the words of Christ to the church at Laodicea once again, then we will examine His rebukes and promises to this body of believers. Allow your heart to be moved by His Words.
14 "And to the angel of the church in Laodicea write: 'The words of the Amen, the faithful and true witness, the beginning of God's creation.
15 "'I know your works: you are neither cold nor hot. Would that you were either cold or hot!
16 So, because you are lukewarm, and neither hot nor cold, I will spit you out of my mouth.
17 For you say, I am rich, I have prospered, and I need nothing, not realizing that you are wretched, pitiable, poor, blind, and naked.
18 I counsel you to buy from me gold refined by fire, so that you may be rich, and white garments so that you may clothe yourself and the shame of your nakedness may not be seen, and salve to anoint your eyes, so that you may see.
19 Those whom I love, I reprove and discipline, so be zealous and repent.
20 Behold, I stand at the door and knock. If anyone hears my voice and opens the door, I will come in to him and eat with him, and he with me.
21 The one who conquers, I will grant him to sit with me on my throne, as I also conquered and sat down with my Father on his throne.
22 He who has an ear, let him hear what the Spirit says to the churches.'"
Verses 15 and 16 were always an enigma to me. I could understand Jesus angst over a lukewarm church, and even a cold church, but a hot church? Seems to me a hot, on fire church would be exactly what He desired? How odd! Let's dig into the meaning behind His words.
Five miles to the northwest of Laodicea was a town called Hieropolis. Hieropolis was known for a spa that boasted hot mineral baths and medical remedies. It was also known for white formations of mineral deposits on the rocks.
Ten miles to the south of Laodicea was Colossae, which was known for its pure, cold water. Visitors still drink from the springs in Colossae in 2016.
Water from both towns ran through aquaducts into Laodicea, but by the time the cold, pure water of Colossae reached Laodicea it was lukewarm. The same was true with the hot, mineral laden water from Hieropolis. When the two waters mixed in Laodicea all that was produced was a luke-warm, mineral-laden liquid that was not fit to drink. To do so would likely make one ill. Jesus says that he wishes the church at Laodicea was either a hot, healing mineral bath or a cold spring of pure water. They were neither and made Him sick.
This church was rich in worldly wealth, but spiritually bankrupt. They were self-sufficient and said they had need of nothing. In truth they were poor, blind, naked, pitiful, wretched and miserable in the eyes of the Lord. They were a church who had no need of Christ. In fact, they were a religious country club, existing for their own benefit.
Pride and self-sufficiency were the terminal diseases that afflicted this church. Recall from last week that I said Laodicea was known for its wealth, medical school, and a glossy black wool that was produced there? Jesus used each of the things for which the city was known to describe their spiritual state.
They had worldly wealth, yet they were spiritually poor

They had a world class medical school, yet they were spiritually blind

They produced a glossy black wool used for clothing, yet they were spiritually naked
Because He loved this church, Jesus rebuked them and offered them spiritual gold, spiritual clothing, and spiritual sight if only they would repent. Jesus was standing at their door, knocking, wanting to be let in so He could fellowship with them. Yet, their pride stood in the way.
For those who repented of their pride and turned to Him, Jesus promised a position of honor with Him on His throne.
The church at Laodicea has so much to teach the church in 2016. All too often, we, the body of Christ, are a pull-ourselves-up-by-the-bootstraps, I-did-it-my-way bunch. We go to Jesus as a last resort rather than the first option. Humility has been relegated to the back row, while we take pride in our buildings, budget, and bulging pews.
Jesus calls us to a deep love for Him and a humility that causes us to be utterly dependent on Him for ministry. He stands at the door of our church and our heart and knocks, waiting to be let in and loosed to work in and through us.
The video will offer the final wrap-up. Please view the video then come back to engage.
(Visited 168 times, 1 visits today)