Friends, summer is here! While I do not have children to tend to, summer does beckon me to a different pace of life. To that end, you will not find me here tapping out posts on a regular schedule for a couple of months. I am going to offer myself grace to rest and read a few books and visit with friends and loved ones. I am also going to spend a fair amount of time and energy this summer writing the teaching sessions for the Come Away retreat (Want to know more about the retreat? Click HERE). Oh, I will be posting, but it won't be three times a week. It might only be once a week. Now, on to today's post!
For 17 months I have known the day would come when we needed to peel back the layers of Scripture and look at one of the most hotly debated topics therein….the Rapture. Well, people, today is the day. In fact, we may take several weeks to explore this topic.
Some folks have strongly held opinions on the rapture that have caused divisions among churches and friends. May it not be so in this space. Prior to my in-depth study of Revelation, I was one who simply hoped for a pre-tribulation rapture in order to avoid the intense suffering that is detailed in Revelation. I really had little Scriptural support for my stance. After spending time in Revelation and other books of the Bible, I feel like I have a better understanding of when the rapture MIGHT occur.  I say 'might' because there are cogent arguments for each of the possible times of the rapture….pre-tribulation, mid-trib, post-trib, and pre-wrath. I will also tell you that my guess about when it may occur MIGHT has changed over the years.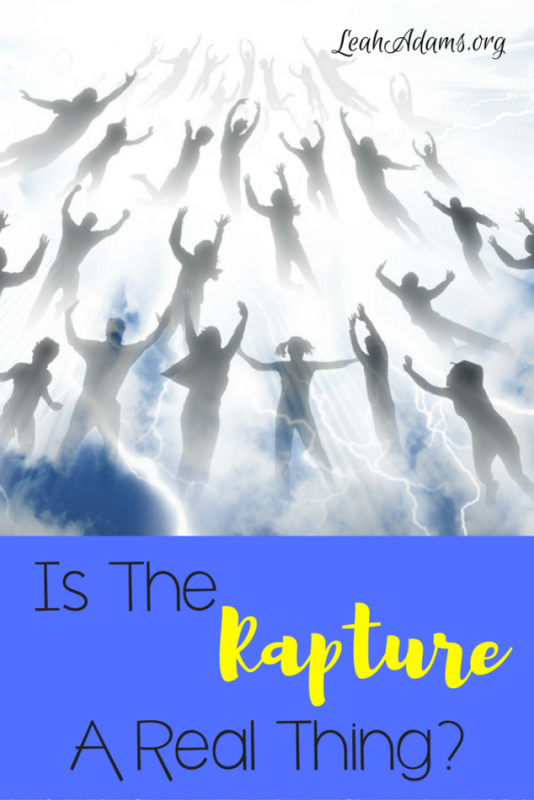 Today we will take a couple of excursions outside of Revelation to gather Scriptures that pertain to this most interesting topic, but first let me tell you that the word 'rapture' is never used in Scripture. Nope! Not once. This word comes from a Greek word used in 1 Thessalonians 4:17 that means 'to seize, catch (away, up), pluck, pull, take (by force). (Strongs)
Let's take a quick look at that broader passage:
13 But we do not want you to be uninformed, brothers, about those who are asleep, that you may not grieve as others do who have no hope. 

14 For since we believe that Jesus died and rose again, even so, through Jesus, God will bring with him those who have fallen asleep. 

15 For this we declare to you by a word from the Lord, that we who are alive, who are left until the coming of the Lord, will not precede those who have fallen asleep. 

16 For the Lord himself will descend from heaven with a cry of command, with the voice of an archangel, and with the sound of the trumpet of God. And the dead in Christ will rise first. 

17 Then we who are alive, who are left, will be caught up together with them in the clouds to meet the Lord in the air, and so we will always be with the Lord. 

18 Therefore encourage one another with these words.
Let me explain the context of this group of verses. Paul was teaching the church at Thessalonica concerning what happens to believers after they die, a topic about which there was some confusion. Scholars believe that someone was teaching that all those who had already died would miss the second coming of Christ. Paul was seeking to set the record straight.
So, what we have in these verses is this:
Jesus descends from heaven and issues a command, presumably  "Come up here", "Y'all come", or something similar.
Those who have died in Christ will rise first.
Those believers who are alive at that time will follow and be 'caught up' (rapture) together with the dead in the clouds (not on the earth, so this is not the second coming of Christ to earth) to be with the Lord.
A passage that corresponds to the 1 Thessalonians passage is found in 1 Corinthians 15:51-52. Let's take a look at it.
51 Behold! I tell you a mystery. We shall not all sleep, but we shall all be changed, 

52 in a moment, in the twinkling of an eye, at the last trumpet. For the trumpet will sound, and the dead will be raised imperishable, and we shall be changed. 
Again, this is Paul speaking about what happens to the mortal body of a believer in the end. He addresses both those who have already died and those who are alive at the time. Everyone will get a changed body. Here is what happens according to this passage:
A final trumpet will sound (can we surmise this is the 7th trumpet? Perhaps.)
Things are going to happen F-A-S-T
The dead in Christ will be raised and changed
The living will be changed
Okay, let's put a wrap on today's study. What do we know about the rapture at this point that establishes it as a fact?
A trumpet is going to sound
Jesus will descend from heaven and call his children to meet Him in the air/clouds
Those who have already died will rise first
Those who are still alive will rise next
We will all get new bodies
Pretty stout evidence that the rapture is a real event, I'd say. I hope you will join me next time as we look at an event that is closely tied to the rapture. Until then,
SDG/FCA!! 
NOTE: this post contains affiliate links.
(Visited 396 times, 1 visits today)