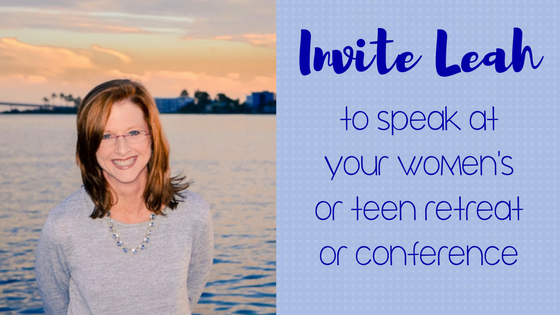 Looking for a speaker for your next women's retreat, Bible study group, or conference?
Maybe you are seeking a speaker for your teen girl's event?
Would you like for your group to learn more about child sponsorship through Compassion International?
A Christian speaker, author, and mentor, Leah's speaks regionally and nationally to groups of all sizes on topics that reach into the heart of a woman. She uses real life examples as she teaches biblical truth and is passionate about communicating the love and grace of Jesus through her speaking. Leah's hallmark message is about the legacy that we are leaving for the generations that come behind us. She encourages attendees to consider faith and character choices in a message that is packed full of truth and encouragement. This message is appropriate for all ages of women. Other messages include:
Taming the Restless Tongue
Let's Make Biscuits: The Importance of Biblical Mentoring
Obedience: The Key to Unlocking the Blessings of God
and many other messages. Leah will work with you to tailor existing messages or to create new messages for your event. Leah serves as an ambassador for Compassion International. Releasing children from poverty in Jesus' name is the heartbeat of the child sponsorship program offered by Compassion. As a sponsor of three girls through this program, Leah has had the opportunity to experience the blessings that come from helping a child in a developing country have access to: hearing the gospel of Jesus Christ, attend or stay in school, regular meals, medical care, and mentoring through a local church. Leah would love to share more about the Compassion Child Sponsorship Program with your church or group, and is available to speak at your Sunday morning service or women's event. Want to sponsor a child now? Go HERE. Leah will work with you to develop a speaking budget that fits your event. She brings a supply of the books she has authored with her to each event and offers them for sale, and is eager to autograph copies for your ladies as desired. Leah travels from northern Georgia, and out of the Atlanta or Chattanooga airports.
(Visited 386 times, 1 visits today)